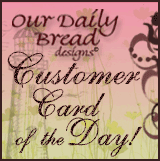 Oh my gosh.. imagine my surprise when I opened an email this morning that was a private message through SCS to me.. saying that a card I posted for the OWH monthly ODBD challenge was chosen as a
"customer card of the day"...
wowzers! I was laying in bed this morning reading the email on my Kindle and my husband is saying "you're a superstar!!".. ha ha.. what a funny man!
here is the card that was posted:
thanks for looking ~
have a great airborne day!
God Bless All Our Military.. each and every one of them